Laser Hair Removal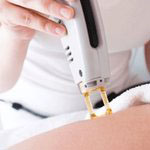 Hair removal Lasers have been in use since 1997 and has been approved for "permanent hair reduction" in the United States by the Food and Drug Administration (FDA). Laser hair removal has become extremely popular because of its speed and efficacy, although some of the efficacy is dependent upon the skill and experience of a professional Licensed Medical Electrologist, and the choice and availability of different Laser technology at the clinic which is performing the procedure. The GentleLASE 755 nm alexandrite Laser is Candela's premier hair removal Laser, treating quickly, comfortably and effectively and only Candela Lasers feature the Dynamic Cooling Device (DCD™) to maximize patient safety and comfort.
The Laser, controlled by a professional Licensed Medical Electrologist, targets the hair in its growth stage. As it does this, it destroys the pigment in the hair and stops regrowth. Because Laser works on the pigment, the ideal candidate for the process is someone who has darker hair, and lighter skin. Individuals with blonde, white, gray and most red heads are not good candidates for Laser hair removal since these colors don't have much or any pigment in them, they do not absorb the light as well.
About Our Experts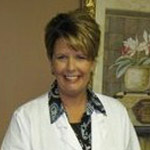 Teresa Pulido
has over 16 years experience in the health care industry and is a licensed Clinical Medical Electrologist which is governed under The Board of Medicine in The State of Florida.
Teresa is dedicated to advanced education in order to provide the highest level of patient care possible and motivated by the success of patient treatment. Her commitment to patient care is always of the utmost importance.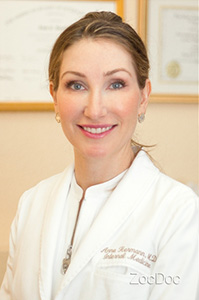 Anne Hermann, MD
Dr. Hermann graduated from the University of Medicine and Dentistry of New Jersey as member of Alpha Omega Alpha, the medical honor society. She completed a residency in Internal Medicine at Columbia University, Bassett Hospital in 2003, where she also served as Chief Medical Resident. In 2004, she completed her training in acupuncture at UCLA Medical School in 2004.
She is double Board Certified in Internal Medicine and as a Physician Nutrition Specialist. Dr. Hermann has been cited in many magazine and newspaper articles, including the New York Times, for research that she conducted on natural hormone therapy.
Learn more about Dr. Hermann
.
Laser appointments and or complimentary consultations can be made by calling (813) 982-4223.
FAQs
Why should you choose Laser Hair Removal versus Electrolysis?

Because FINALLY THERE IS A FASTER WAY! Laser hair removal is highly recommended for large areas such as the back, legs, bikini area and/or thighs. On a good Laser hair removal candidate the larger areas work very quickly. A few Electrolysis treatments may be recommended following a Laser series for scattered fine regrowth.

How does the Candela GentleLASE Laser system remove hair?

This Laser targets the pigment located in the hair follicle and shaft. The light is absorbed by the pigment in the hair follicle and this energy is converted to heat which results in damage to the hair follicle. Once the hair follicle is thermally destroyed it will no longer produce hairs. Unlike electrolysis, which disables one hair follicle at a time, the Laser reaches and treats hundreds of follicles at a time.

Is it safe?

Yes! The Candela GentleLASE Laser system was developed from years of research. It has been FDA approved for hair removal since 1997. The Laser is pulsed, or "turned on", for only a fraction of a second and the duration of each pulse is just long enough to disable the hair follicles. A unique component of the system is the patented Dynamic Cooling Device (DCDTM) which provides consistent epidermal cooling and helps to preserve the surrounding skin. The DCDTM sprays the upper layer of the skin with a cooling burst of cryogen, milliseconds before and after the Laser pulse. This spray of cryogen cools the skin's temperature so that the Laser light can pass through it and be absorbed selectively by the hair.

How long will the procedure take?

The length of a Laser treatment may last anywhere from just 5 minutes to an hour or more, depending on the area being treated.

Does it hurt?

Some people explain the sensation as a "snapping" of a rubber band against your skin. You may feel a tingling or stinging sensation with each Laser pulse, however, the spray of cryogen before each pulse (provided by the DCD) cools the skin and reduces that discomfort. Most people tolerate the procedure very well. Following your treatment, you may experience a sunburn-type sensation in the treated area for several hours.

Who performs the treatments?

Our Laser treatments are performed by our Certified Medical Electrologist who is trained and certified in Laser Hair Removal procedures and safety as well as certified through the board of medicine.

How many treatments will I need?

Most people will need an average of 6 treatments. Some individuals will need 6-8 Laser treatments. Skin type, hair coloring and coarseness of hair are all contributing factors to how many treatments will be needed. During your consultation, we will discuss the estimated number of treatments you may need, depending upon your specific genetic factors.

I have dark skin / I tan – can I be treated?

That depends. The melanin content in your skin is one of the factors that must be considered when determining whether or not you are a good candidate for Laser Hair Removal. When you come in for your free consultation, we'll examine the areas you want treated, determine your skin type and discuss your desired results. Each client needs to be individually assessed.

What about blonde / red / gray hair?

The Laser energy is absorbed by the melanin in your hair. The greater the amount of melanin, the better the results. White or gray hair does not contain any melanin and, therefore, does not respond to treatments. However, some hair that many would call blonde or red actually does contain enough melanin to be treatable. That's precisely why we offer a complimentary consultation, so we can evaluate your hair and skin type and discuss your options.

Do I need to grow the hair out before my consultation / treatment?

No, in fact we ask that you do shave the area you want treated. We're actually targeting the anatomical structures below the skin. Surface hair interferes with this process.

Do I have to stop bleaching / tweezing / using depilatories, etc?

Yes! You need to cease all other methods of hair removal because the target hair is needed in the follicle to absorb the Laser light. You may still continue to shave throughout your treatment.

How far apart are the treatments spaced?

Hair regrowth occurs at different rates on different areas of the body. Treatments may be spaced anywhere from 4 to 12 weeks apart, depending on the area of the body being treated. For example, the face is retreated every 4 - 6 weeks. The underarms and bikini every 5 – 6 weeks. And the back every 8 – 12 weeks.

How long before I see results?

You will see some results almost immediately. It takes anywhere from 1 – 3 weeks for all of the hair in the treated area to fall out. After that, you will experience a period of no growth and smoothness in the treated area. Each treatment session will result in a reduction of hair growth. Hair will also grow progressively slower, lighter and finer with each treatment.

What conditions are treated with the Laser?

Traditional hair removal techniques such as shaving, plucking, waxing and depilatory creams provide only temporary relief. Until now, the only recognized way to remove hair permanently has been by electrolysis. The GentleLASE system safely removes unwanted body hair without damaging the delicate pores and structures of the skin.

Is Laser hair removal permanent?

Permanent hair reduction is guaranteed. Clients can achieve up to 80% of hair reduction. These results will be influenced by certain conditions such as skin, hair color and hormones.

What to expect during your treatment?

Depending on the amount of hair treated, the procedure varies from patient to patient. Generally, the treatment will include:

Wearing safety eyewear to protect the practitioner and the patient's eyes from the Laser light during the procedure.
A small hand piece will be used that touches the skin to deliver the Laser light. A light spray of coolant (cryogen) onto the skin will be felt just before each Laser pulse.
A test area will be done prior to the entire treatment. Your full treatment may be done on the same day or up to two weeks later, depending on the skin reaction.
Most patients experience little discomfort, a small sting or the feeling of a rubber band snap.
The degree of discomfort varies with each person, depending on his/her pain threshold. The procedure can take as little as 10 minutes or up to an hour, depending on the area treated.
The treated area may become pink or red within 30 minutes of treatment; this may last from a few hours to a couple of days and is relieved with the application of ice or cooling gels.

How many treatments will I need?

Hair grows in cycles. The number of treatments required depends upon your skin color, hair color and coarseness of the hair. Everyone will require at least 4-6 treatments as the process is only effective on hair during the early growing cycle. Repeat sessions will be necessary to treat these follicles when they re-enter the early growth phase. We recommend a package of 6 treatments for maximum results. If any sessions are needed after 6 sessions, we do offer maintenance sessions.

How long should I wait in between sessions?

Every Laser Hair removal Treatment. Like every client, is unique. Individual treatments will vary according to skin and hair color. Lighter the skin and darker the hair, the better the results to be expected. On average we recommend 5 treatments. Some clients may require additional treatments, depending on the individual. Treatments should be 4-10 weeks apart depending on the area as well as your own individual hair growth.

What should I do after treatment?

After the treatment, your skin may be sensitive, slightly red and possibly swollen. This reaction usually subsides within minutes to hours and your skin returns to normal. You may also experience a slight burning sensation of the skin, comparable with mild sunburn. Most of the time no special after-care is necessary. If you wish, ice packs or a gentle soothing lotion, like Aloe Vera, can be applied to the area. On rare occasions, blistering and/or scabbing as well as pigment changes may occur. If these reactions occur, the healing will take longer and will require more intensive after care.

Avoid intense sun exposure or tanning for at least 6 weeks after treatment. Exposure to the sun may cause temporary skin changes and "browning". A sunscreen with SPF 20 or higher should be applied.

All clients will receive Post treatment Laser hair removal instructions with step by step instructions on what to expect after their treatment.
Before and After Images
Click thumbnails to enlarge.