Dermafile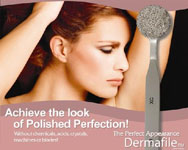 Dermafile™ polishes and resurfaces the skin by removing the top layer of dead skin cells, and leaving the skin velvety smooth, fresh, and rejuvenated skin.
Dermafile is a very effective tool and can treat aging and sun damaged skin, scars, acne scarring, pigmentation, stretch marks, fine lines and enlarged and clogged pores. It will also smooth rough calloused skin on elbows, knees, hands and feet. Dermafile can also be used on areas of the skin to even skin tone on the chest, back, or even hands. There are three levels of treatment; Fine, Medium, and Coarse, giving the esthetician total control over the process, and allowing various levels of the epidermis to be safely removed.
Dermafile offers all the benefits of microdermabrasion that can make your skin look as young and beautiful as you feel, but with minimal to no side effects. The Dermafile is a safe, natural, holistic alternative to chemical peels and microdermabrasion which allow you to achieve the same effects without using crystals or machines. Dermafile is a great alternative to microdermabrasion for those that have thinner skin and broken capillaries on the face.
Benefits of the Dermafile Exfoliation:
Helps build collagen and smooth fine lines.
Helps remove sun damage and uneven skin tone.
Helps remove age spots.
Helps lessen ingrown hairs.
Helps smooth away dead skin cells and rough, bumpy, dry patches of skin.
Helps smooth away acne scars and other types of facial scars.
Helps makeup go on smoother.
Skin feels silky smooth and clean!
Dermafile is a safe, effective microdermabrasion alternative.
We offer amazing Dermafiles for only $75!